This October and November we are hitting the road again, this time with Big Daddy Wilson and his full Band from Europe!
What a blast it will be and a step up to showcase his latest hot of the press released CD "Neckbone Stew"!
His latest CD has won a lot of praise everywhere and consequently the has been the winner of 2017 Deutscher Schallplattenpreis (German Recording Industry Award)! Woohoo!
The New Zealand Tour will feature 14 shows all over the country, starting on 14 October at the fabulous Nelson arts Festival and finishing up in Auckland on 04 November at the Tuning Fork. Check out the full schedule here, tickets for most shows are already available on eventfinder.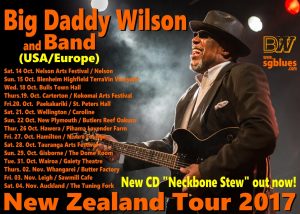 The tour so far, there maybe updates and extra shows thrown in, keep watching out!
Saturday 14 October Nelson Arts Festival 8 pm
Sunday 15 October Blenheim Highfield TerraVin Vineyard 1pm
Wednesday 18 October Bulls RSA 7 pm
Thursday 19 October Carterton Kokomai arts Festival 8 pm
Friday 20 October Paekakariki St. Peters Hall 8 pm
Saturday 21 October Wellington Caroline 9 pm
Sunday 22 Oct New Plymouth Oakura Butlers Reef 3 pm
Thursday 26 October Hawera Pihama Lavender Farm 7 pm
Friday 27 October Hamilton Nivara Lounge 8 pm
Saturday 28 OctoberTauranga Arts Festival 8 pm
Sunday 29 October Gisborne The Dome Room 3 pm
Tuesday 31 October Wairoa Gaeity Theatre 7.30 pm
Thursday 02 November Whangarei The Old Stone Butterfactory 8 pm
Friday 03 November Leigh The Sawmill Cafe 9 pm
Saturday 04 November Auckland The Tuning Fork 8 pm
Proudly announcing the upcoming Greg Copeland and Steve 'Guitar' Gilles New Zealand Tour 2016:
19 shows all around the country in 4 weeks, from Whangarei to Christchurch, we'll have a blast!
Be there!

Greg Copeland and Steve 'Guitar' Gilles New Zealand tour 2016 Tour Dates
Past Tours that Steve Gilles Productions has been involved in:
Big Daddy Wilson Australia Tour March 2016
Big Daddy Wilson first time in Australia in March 2016, Steve Gilles Productions went along all the way, touring 14 shows from Melbourne to Brisbane.
And we lost count of those radio interviews…
Nice to meet ya, OZ!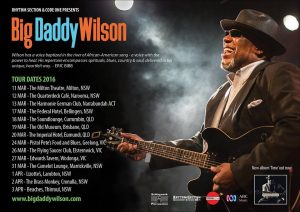 Big Daddy Wilson New Zealand Tour Sept / Oct 2015
Big Daddy Wilson's second visit to New Zealand in Sept 2015 was another amazing success and underlined his presence in Aotearoa!
19 shows all around the country, lifting the eyebrows with a TV One Breakfast Show appearance to kick the proceedings off in style.

Watermelon Slim New Zealand Tour April 2013
Watermelon Slim 2013, we went all around the country for 16 audacious memorable shows, not one like the other!
Hold on to your hats, it's Watermelon Slim, after all. What else did we expect…?

Big Daddy Wilson New Zealand Tour 2012
In 2012 we had a rip roaring 25 shows all over New Zealand Tour with Big Daddy Wilson!
What a blast, from Invercargill to Kerikeri and almost anywhere in between, we've been there!